RABBIT /-
Princess LiLU !
The Queen did not break her promise so she bought another cute rabbit which known as "the most pretty pet ever!", Miss Lillu.
Forgotten the date the queen bought, nothing much to say since she is so gorgious that we always bath and syampoo her so that Princess can always hug Ms Lillu...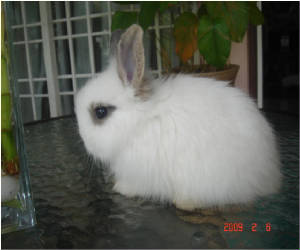 ************************************************************************************
KITTEN /-
Ms Mellow & Ms Jello
Ms. Mellow (26.11.2008/grey color/long tail) & Ms. Jello (3.12.2008/mixed color/tiger stripe/short tail)
Their original name was, roro & kontot. We bought on March 14th, 2009 (sat) from Ijan's which the queen known from Mazlinda, the queen ex-school mate. When we were there at Ijan's house, all kittens was so adorable specially Suri, the queen love her so much but we can't have it, can't affort. Anyway we grab kontot (Jello) which is the 2nd kitten that the queen adore.. ;). Ijan was so good that she gave us another kitten to accompany Ms. Jello.
I'm glad that now I have 2 cute kittens and Pondok Burok Territory wish to have more in future..
new cage for our kitten!